Hi everyone!!! I wanted to start by thanking Jules for inviting me here to post cards!!!
I like to KISS when I make cards - Keep It Simple Silly!!! The more complex I start to make a card the worse it turns out and then I just don't like it!!!
Here is a recent Valentine card I made for my darling hubby!!!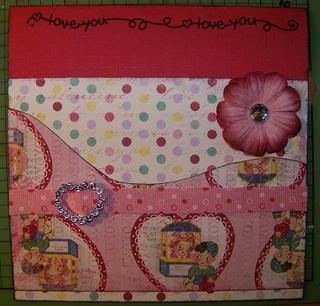 Want to make a similar card? Follow these simple steps:
Materials Needed (products I used in parentheses):
1 Solid Cardstock (Bazzill)
2 Patterned Papers (Daisy D's)
1 Coordinating Ribbon (misc from stash)
1 Ribbon Slide/Buckle (Paper Studio)
1 Flower w/gemstone center or 1 brad/gem to add to flower once placed (Lil'Davis Designs)
1 Stamp or Pen to add sentiment (Hero Arts)
1 Coordinating Ink Pad (Colorbox)
Let's get started:
1. Create the card base from a 6X12 sheet of sturdy cardstock & fold in half. Ink the edges of the front of the card base. If you want a sharp crease use a bone folder or round pen to smooth out the fold.
2. Cut your base pattern paper 6X4, ink the edges and adhere to the card front.
3. Cut your top layer of patterned paper 6X3 and then on the back draw a wave then cut along the line. Ink the edges.
4. Cut the coordinating ribbon of your choice 7 inches long.
5. Put your ribbon slide/buckle onto the ribbon.
6. Place the ribbon on the top layer of patterned centering it where 1/2 an inch hangs over each side. Once you have figured out exactly where you want it adhere it to the paper and wrap the ends around to the back and adhere them as well. Putting the ribbon on like this will keep you from having frayed ends after the card is handled - you can opt to have frayed ends as extra texture to the card if you like.
7. Adhere the top layer of patterned paper.
8. Place your flower on the front of your card where you have the lowest part of your "wave" on the top layer of patterned paper. If your flower doesn't have a gem in it you can use the brad or gem listed above to place in it before you adhere it to your card.
9. Stamp, handwrite or doodle your sentiment along the top edge of the card.
Voila!!! You've just made a simple but beautiful card!!! If you use this to make cards please link them back here in a comment - I'd love to see them!!!