Not just on posting cards but getting some made!!!! Here is what I've done the last month or so - as you can see, I've been slacking but with our recent move I was out of crafting commission for about 3 weeks!!!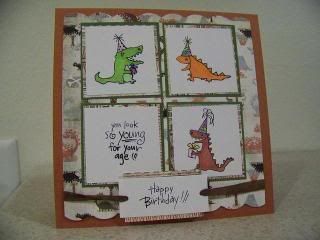 Materials list: PP = Basic Grey Archaic, CS = Bazzill, Stamped Images & Sentiment = Stampendous, Copics = YR116, E09, G03, RV11 & a couple others that I can't remember the # on!!!, Fiber/Ribbon = EK Success
Materials list: CS = Bazzill, PP's = Deja Views, Flowers = Prima, Gems = Hero Arts, Sentiment = CS Sticker from Deja Views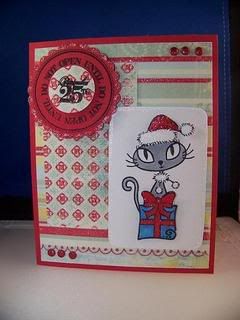 Materials list: PP's =
My Mind's Eye
- No. 2Image =
Pink Cat Studios
Sentiment =
Limited Edition Art Warehouse by Danelle Johnson
Stickles =
Frosted Lace & Christmas Red
CS =
Bazzill in Tomato
Copics =
R29, B14, C3 & 100
Brads = Heidi Swapp Preppy Brads in RedPunches = Marvy Uchida in size
blue
and
green
Materials list: CS = Coredinations, PP = Chatterbox, Stamps = Have no clue, they are old., Copics = YR16, E14, G19, YG03, Y08, B32 & E30, Ribbon/Fiber = EK Success
Thanks for looking and happy scrapping!!!